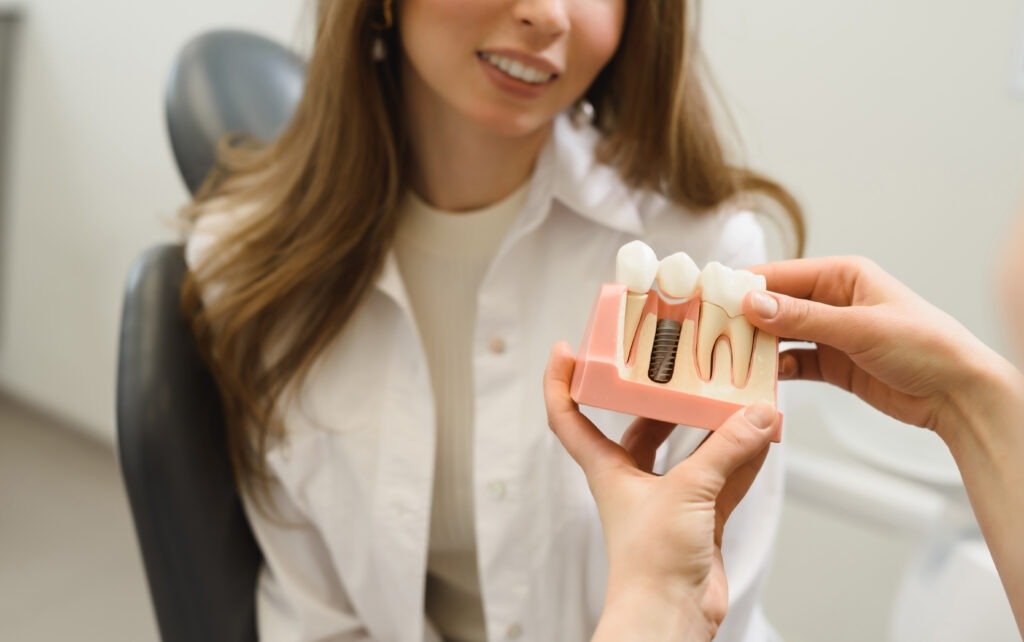 Dental implants are life-changing restorations that replace the root of your missing teeth. Once in place, the solid foundation they provide will give you the confidence to eat anything you want, smile, laugh, and even sing without your teeth letting you down.
We've placed countless dental implants over the years. Our treatments use the latest technology coupled with evidence-based techniques to create smile perfection.
Getting dental implants is a major decision, and it's important to consider all of the details. With this in mind, you should research the procedure and ask any questions you may have.
At Quest Dental care, we want you to understand your procedure to make informed decisions on your care. Here are some of the questions to ask before getting dental implants.
1. Who Will Place My Dental Implants?
Dental implants are titanium posts which anchor into your jaw in a similar fashion to a tooth root. Over time, the titanium fuses with your bone to strengthen your bite.
The surgery to place dental implants involves several stages over a few months. Before treatment begins, it's good to know who will place your implants. This can help you feel confident about your ongoing care.
We'll introduce you to your implant dentist at the earliest opportunity. This gives you a chance to ask them questions and for you both to get to know each other a little better.
2. What Qualifications Do You Have for Placing Dental Implants?
Several clinical pathways allow a dentist to develop their dental implant skills. Many dentists undertake a postgraduate qualification in implant dentistry. This could include a postgraduate certificate, diploma, or even a Master's degree.
Other dentists gain implant knowledge, experience, and qualifications by training under a renowned dentist or by attending courses and seminars run by implant companies.
Ongoing professional development is important to the dentists at Quest Dental care. Check our team page to learn more about the training and experience of our clinicians, and feel free to ask for more information during your consultation.
3. How Long Have You Been Placing Dental Implants?
If you want to know a dentist's experience levels, you can ask them how long they've performed dental implant surgery. Of course, every dentist starts somewhere, but understanding their experience level can reassure you of their competence.
4. How Many Dental Implants Have You Placed?
The number of implants placed and the length of time a dentist has performed the treatment are not the same thing.
Some dentists are very prolific, placing dental implants frequently, while others may handle a few cases every year.
A dentist with twenty years of experience placing implants occasionally may have placed fewer than someone who has worked for three years but handles implant procedures most days.
5. How Long Will My Treatment Take?
One of the most commonly asked questions is how long the procedure will take from start to finish. We'll always start with an assessment to ensure your jaws are healthy enough to support implants. Next, we'll proceed with implant placement.
It can take several months for the implant and jaw to fuse together. We'll need to check on your recovery before adding your custom-made crown and completing your treatment.
We'll discuss your treatment plan during your initial consultation.
6. What Can You Do To Help Me Feel More Relaxed?
Dental phobia is a very real problem faced by many people. Many of our patients choose us because of our reputation for supporting people with nerves and anxiety.
Understanding what lies ahead can remove much of the anxiety. By talking through your treatment plan in depth, your dentist can reduce worries.
We can also take your treatment at your pace. If you feel anxiety building up, we can take a break. Before your dental implant surgery, we can also suggest a few distraction techniques.
By working together, we can help you overcome any fears you may have.
7. What Can I Expect From My Dental Implant Recovery?
Once we have placed your dental implant, the healing process can begin. Because we're waiting for bone tissue to grow around the titanium, full recovery can take several months.
You may experience some discomfort during the first few days. This can be managed with painkillers. For the first couple of weeks, chewing will be challenging. Stick to a liquid diet for the first two days, then move on to soft foods for the next couple of weeks.
You can gradually start to introduce chewy and crunchy foods after around two to three weeks.
During the initial recovery phases, you should avoid smoking, vaping, and drinking alcohol.
8. What Potential Issues Could I Face?
Dental implant surgery has a high success rate. In a small number of cases, implants can fail. We can discuss the likelihood and the potential factors surrounding implant failure during your consultation.
9. What Equipment Do You Use?
Our modern clinics are well-equipped with the latest technology to enhance your experience. In addition to the array of tools needed to perform the procedure, we also have a CT scanner and iTero scanner.
We can talk you through everything we'll use at the various stages.
10. What Happens If I Am Not a Suitable Dental Implant Candidate?
After losing a tooth, bone loss can occur in your jaw. This typically starts within the first few months. If your bone mass deterioration is too advanced, we won't be able to place a conventional dental implant.
In some cases, we can use zygomatic implants. These can support replacement teeth in your upper arch. This longer implant is designed to access the denser cheekbone bone. Zygomatic implants are typically used in conjunction with standard implants and can support up to an entire arch of teeth.
If you lack jaw density and zygomatic implants aren't suitable, you may need to have a bone graft or sinus lift before treatment.
Dental Implants In Ipswich
At Quest Dental Care, we want you to feel informed and prepared for your life-enhancing dental implant surgery. You can ask us questions at every step of the journey.
Get in touch today and schedule your initial dental implant consultation.